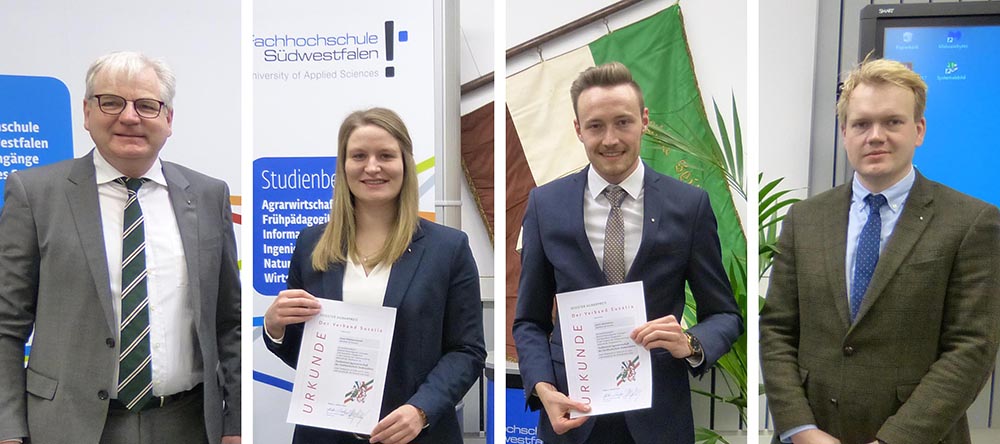 From left to right: Hathumar Rustige, Chairman Susatia (Association of former students of the Faculty of Agricultural Economics in Soest), Anna Hüttenschmidt, Justin Brinkmann, Jonas Thiel, Vice Chairman Susatia.
The prize is awarded by the "Susatia" association (former students of the Department of Agricultural Economics in Soest) to graduates of Bachelor's and Master's degree programmes. It is endowed with 1,000 €. "The award winners are distinguished by above-average performance in their studies, special voluntary commitment inside and outside the university and exemplary personality development," says Hathumar Rustige, chairman of "Susatia", naming the criteria for awarding the "Soester Agrarpreis". Due to the pandemic, this year the prize winners for 2020 and 2021 were awarded.
The "Soester Agrarpreis 2020" goes to Justin Brinkmann. The current graduate of the Master's programme at the Department of Agriculture comes from a farm in Fröndenberg (Unna district), is politically involved at his university and completed his Bachelor's degree with an overall grade of 1.7. For more than five years, Brinkmann was chairman of the Junge Union in his hometown. He is a member of the student council, is particularly committed to the concerns of first-year students and has participated as a student representative in the accreditation of study content and in the appointment of new professors. He is also the semester spokesperson for his Master's programme. Since November 2020, Brinkmann has been supported by the Stiftung Landwirtschaftsverlag scholarship, which was awarded for the first time. Within the framework of this scholarship, the freshly selected award winner successfully worked for six months for the editorial team of "f3 - farm.food.future", the start-up network for green innovations.
Anna Hüttenschmidt, winner of the 2021 award, from Möhnesee (district of Soest) completed her Bachelor's degree at the top of her class with an overall grade of 1.2. Her Bachelor's thesis on the highly topical subject of "Analysis of animal behaviour and additional costs in a piglet rearing house with straw bedding and outdoor exercise" was graded with a straight A by Prof. Dr. Martin Ziron, the supervising university lecturer. Like Justin Brinkmann, Anna Hüttenschmidt is very intensively involved in the Department of Agricultural Economics. In addition, the public relations work of agriculture is close to her heart. That is why she joined the "Land schafft Werte" association early on in her studies. The association was founded in December 2016 in the Oldenburg Münsterland region on the initiative of various companies from the entire meat value chain and carries out public relations and marketing work around meat production. Anna Hüttenschmidt has been working for the top agrar editorial team since 2020, initially as an intern and working student and currently as a trainee.
"We are delighted for and with Anna Hüttenschmidt and Justin Brinkmann about the award and congratulate them warmly,said the three managing directors of Landwirtschaftsverlag, Werner Gehring, Dr Ludger Schulze Pals and Malte Schwerdtfeger. If you have such employees in your ranks, you can look to the future with confidence."